"I invented a new line of door hardware items and needed a company to help me bring my product line to life. Anco's online machine shop experts helped me refine my designs and they fabricated the prototypes. I highly recommend their company to anyone seeking the services of a top notch machine shop."
Keith Pardoe - VA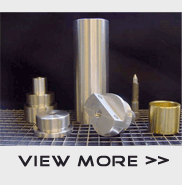 Anco Precision Inc. is a family owned and operated online cnc machine shop in Deerfield Beach, FL.
For over 40 years, Anco's objective has been to manufacture at 100% precision. Through strong rapport with all of our customers, we are able to fulfill all of their online machining needs. Our team of machinists undergo extensive training to gain the knowledge and experience necessary to operate at 100% precision. With our skilled labor force and state-of-the-art equipment, we provide our customers with great products at the lowest prices.
We are highly experienced in the marine, automotive, medical and aerospace industries.
Quality Production CNC Machine Shop
Please contact us for more information and quotes, or visit our online machine shop Instant Quote page to submit a drawing file and receive a detailed cnc machine shop quote immediately.