"I invented a new line of door hardware items and needed a company to help me bring my product line to life. Anco's online machine shop experts helped me refine my designs and they fabricated the prototypes. I highly recommend their company to anyone seeking the services of a top notch machine shop."
Keith Pardoe - VA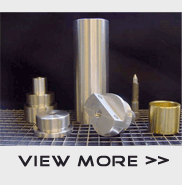 Small Companies
Small companies represent various businesses that are privately owned and operated, consist of a small number of employees and hold a lower volume of sales. In today's competitive market it can be hard for a small company to stand out. Anco precision machining has made it a point to work with and help small companies with their machining needs. Small companies are usually privately owned corporations or partnerships. The legal definition of the distinction "small" varies by country and by the industry, ranging anywhere from 15 to 50 employees in European countries while fewer than 500 employees can qualify as a small company in the U.S.
These small companies exist in many countries and operate depending on the economy and policy of the area. In the U.S. many of the small companies are made up of bakeries, convenient stores, law practices, personal accountants, hairdressers, photographers and machining shops (just like Anco precision machining). Small companies can be started fairly easy and with minimal costs and investment. They can even be operated solely on a part-time basis. Internet marketing has become especially suited for the benefit of these small companies. The interne has allowed these small, local businesses to have a wider reach and advertising market. Small companies are part of communities, usually with quaint well kept offices.
This helps create a good reputation with customers who will no doubt return for services and products. Running a small business also allows more time for one-on-one customer contact due to less bureaucratic procedures. In recent polls 38% of small business owners stated that the main reason they left their other profession or career was due to a lack of independence. They simply wanted to be their own bosses. That's how we feel here at Anco.
The men and women who run and own these small companies are rewarded by the ability to operate independently and take risks that they themselves feel are worthy. This can cause many owners to find themselves working long hours for little and sometimes no pay. In turn they alone get to reap the rewards of a successful business plan. This pride is theirs alone and can be a very satisfying feeling. A large number of small companies in the U.S. are owned and operated by immigrants. The ability to run your own business and to make the decisions comes hand in hand with a sense of freedom which part of our American ideals and bill of rights.
In recent years, with the economic downturn, many small companies have found themselves struggling to stay afloat but Anco is still here and will remain close by to provide excellent service and prices. It is sad to see some of these companies, where the owner has worked so long and hard, to fall by the wayside. However, this fact is just one aspect of trying to run your own business in a free market economy.