"I invented a new line of door hardware items and needed a company to help me bring my product line to life. Anco's online machine shop experts helped me refine my designs and they fabricated the prototypes. I highly recommend their company to anyone seeking the services of a top notch machine shop."
Keith Pardoe - VA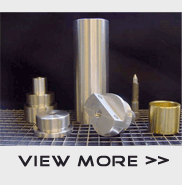 Contract Manufacturing Companies


Here at Anco precision machining we feel it is our duty to provide top notch service to all our customers. We are ready and able to help in any of your outsourcing needs. If you have a job that requires extra help one only needs to turn to Anco for contract manufacturing. Our state-of-the-art CNC machines allow us to meet your tight tolerance requirements with ease. It doesnít matter if the job is big or small because we have the capabilities to meet your individual and corporate needs. Our contract manufacturing process is quite easy and hassle free. All you, the costumer, needs to do is approach us with your job design, material preferences and dimensions. We will look over the customized specifications and will have a quote returned to you in a timely and professional manner. The processes, labor, tooling and man hours required for the work will serve as the deciding factors in our quote prices. After the bidding is complete you can select us as your new contract manufacturing shop. We will complete all machining requirements and have your completed parts shipped directly to you!

If you havenít dealt with a contract shop before donít worry. Numerous industries utilize our services such as the aerospace, computer, national defense and automotive markets. Any of our CNC machining and/or tooling machines can be used in the manufacturing of your desired parts. Anco precision machining also carries a wide variety of materials such as woods, plastics/polymers and metals to make sure that all job requirements can be met. In our 35 years of operation we have served as a successful contract manufacturing outlet for numerous government and aerospace entities as well as your everyday run of the mill large and small companies. In fact, we are highly experienced in the medical, automotive and aerospace industries respectively. Reaching an agreement in contract manufacturing is good for both customer and supplier. It allows for the cultivation of professional relationships between two or more companies which in turn can help save money, boost employee morale and help your companyís reputation as a respectable and capable contractor who will get the job done on time and within the set price range. Ancoís team of highly trained machine operators have the knowledge and expertise to insure that all work is met with 100 percent precision. You will find our products to be of the highest quality while maintaining the lowest prices. Stop by one of our locations or jump online and see if we can meet your contract manufacturing needs today!

Most large contract manufacturing companies have outsourced thousands of parts to many different companies, and are almost always looking for a new company that can do it for less, or better quality. This means that many companies are constantly looking for contract manufacturing. At Anco Precision, we offer an extensive array of contract manufacturing capabilities and direct experience. Whether you are looking for a basic component assembly or total turnkey production of complicated devices, we offer a broad range of value-added services to make your products more cost-effective and assure timely supply and quality. From milling and turning, CNC machining is a viable option for everything from prototypes to low-volume production. We offer production of many materials, including plastics and metals.

A single manufacturer today does not produce many products created by production machining. Large companies, such as automobile manufacturers and large engineering manufacturers, will outsource many of the different components of a single product. This process is referred to as contract manufacturing and it is a very large portion of small business manufacturing. From prototyping and engineering, to design, contract manufacturing with Anco Precisions machining services are a great way to outsource your business. If you are a small manufacturing company and are wondering how you can take your product manufacturing to the next level, then Anco precision is here to help you.

At Anco Precision, we continue to grow thanks to our customers support and new demands of an ever-changing manufacturing world. Anco Precisions CNC machine shop has developed different components for various industries, including the marine, automotive, medical, and aerospace industries. Rest assured that our commitment to customer service and goal of 100% precision on your parts will leave you completely satisfied.

The experience and expertise we have garnered over the years is our most invaluable tool. From quotation to product delivery, the objective is to manufacture high quality products with precision and to deliver in a timely manner. We strongly believe that a good relationship with our customers depends on the following through of these capacities.

We strive for competitive pricing for our material and manufacturing supplies, and only purchase from suppliers that have proven their dependability in both quality and delivery. By associating with those with a similar business philosophy and work ethic, we find a harmony and a flow of work and success that we are pleased to pass on to our customers. Whether you are designing a new part or are in need of adding to an existing part, getting custom parts is normally time consuming and costly. Until now, you had to buy and learn expensive and complex software, locate a local machine shop, find a way to transmit the drawings, discuss the design with a machinist, sift through price quotations, and eventually get your part. This process often takes days if not weeks and is much more costly.