"I invented a new line of door hardware items and needed a company to help me bring my product line to life. Anco's online machine shop experts helped me refine my designs and they fabricated the prototypes. I highly recommend their company to anyone seeking the services of a top notch machine shop."
Keith Pardoe - VA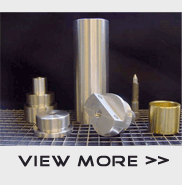 CNC Turning Services
CNC Turning at Anco Precision Inc. is accomplished on one of our many cnc turning centers at our online machine shop. Our facility consists of the latest in high speed turning with rapids in excess of 1800 inches per minute, and 100% fully automatic with our cnc turning machines. Including 12 tool, 3" bar capacity in automatic, and 10" diameter chucked. Anco Precision's cnc turning machine shop is devoted to customers looking for immediate quoting at our cnc production machine shop. Anco Precision Inc. continues to add new equipment to our machine shop, to provide our customers with low prices and great product. Through our online machine shop, you can count on our cnc machining shop to provide precise products ontime.
Below are various jobs that have been run in our facility.
Click images to enlarge.