"I invented a new line of door hardware items and needed a company to help me bring my product line to life. Anco's online machine shop experts helped me refine my designs and they fabricated the prototypes. I highly recommend their company to anyone seeking the services of a top notch machine shop."
Keith Pardoe - VA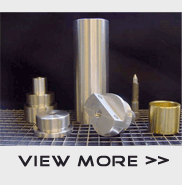 CNC Milling
Anco Precision Inc. has been family owned and operated since for 35 years and specializes in CNC milling. It is our objective to manufacture our pieces at 100% precision. We are highly experienced in the automotive, marine, aerospace and medical machining industries.
CNC milling machines have helped revolutionize the manufacturing process. Milling machines are traditionally found in two basic types: Horizontal and Vertical. Milling machines can be found to be manually operated, mechanically automated or digitally automated. CNC milling machines come in a wide range of sizes from your work bench mounted to the size of an entire room.
These computer numerical controlled (CNC) machines not only move the drill bit, but also move the piece being machined as well to allow maximum efficiency and tolerance; of which can be controlled to 0.001 of an inch or 0.025mm. In other words, these things are precise! 'Numerical control' refers to the computer automation of these devices as opposed to hand cranks and wheels which are manually turned by the machinist. These machines can perform simple tasks such as planning and drilling but can also handle tough, complex work like contouring and die sinking. While the machine is in operation a coolant (biodegradable is available) is pumped to the milling site to keep the metal cool and to help lubricate the cutting edges and wash away any excess shavings.
The most advanced CNC milling machine, referred to as the multi-axis machine, adds 2 more axis to the already existent 3 (X,Y,Z). The first of the NC machine type was developed in the40's and 50's and used punch tapes (like early computers) to control a motors that then moved the machining bit. The development of CNC milling has been fairly recent due to the computer revolution in the 1980's. Since the early 80's only big machine shops had the capabilities (money, floor space etc.) to obtain theses devices, however since personal computers have become more accessible and affordable you can find CNC milling devices in garages as well as in home and personal shops.
All in all CNC milling uses numerous machines and an external controller (machinist or robot) to move and set the machined piece in and out of the fixture. The complex steps involved in this procedure produce high quality parts that match the original print to a .001 of an inch. Whether you need boat, airplane or custom machined parts Anco Precision Inc. is the way to go.